The About page provides information regarding your equipment's software version. Details can be found in the bottom left-hand corner under DataStream™ System Applications. DataStream™ v6 features updated versioning nomenclature for simplified tracking of software compatibility. An update is recommended if your Apogee™ equipment displays Firmware version(s) older than v6.4.1. 
Before beginning the installation, please click the black button below to review our DataStream™ v6 Update Checklist. Click the grey button below to watch a video tutorial on how to administer the update.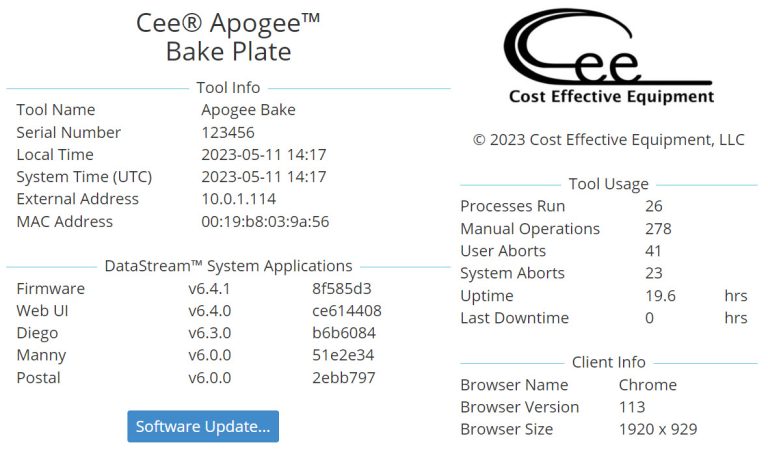 DataStream™ v6.4.1 Update
Firmware – v6.4.1
Diego – v6.3.0
Postal – v6.0.0
Web UI – v6.4.0
Manny – v6.0.0
What's New:
Protect recipe data with backup on boot functionality
Improved safeguards to prevent data loss
Duplicate recipe warning to avoid unintentional overwrite
Capture 60 minutes of graph view and export to csv
Expanded and improved process logs
Local and remote screen capture capability
Simplified version nomenclature v[major].[minor].[patch]
End-of Process alarm now featuring 'silent mode' 
DataStream™ API for integration, automation, and remote management capabilities
Spin Coaters
One-click motor off button in manual controls for instant spin motor shutdown
Bug Resolution: eliminate process freeze when servo communication is lost
Bake Plate
Configure the lift pin offset for improved calibration
Safeguard against operator injury with the optional Safety Watermark
Reduce time to temp, conserve energy, and prolong product life with the Idle Temperature setting
Timers mode offers basic controls and simple time-keeping functions for R&D applications. 
DataStream™ Update 20220620
Firmware – 20220620153130
Diego – 20170426104043
Postal – 20160404142634
Web UI – 20220620085426
Manny – 20160404142354
What's New:
UI enhancements including process view quick links and graph scaling up to 1 hour
refined diagnostic interface for ease of troubleshooting
added features to manual control dropdown
ability to modify system time and date offline
USB recipes upload/download
improvements memory writing process to prevent corruption of file systems
Spin Coater
ability for users to specify dispense names 
end of process Chuck Home added to settings (0 to disable, 1 to enable)
source empty preconditions only verify dispenses included in recipe
Bake Plate
lift pin step resolution increased to 0.1mm increments
improvement of lift pin function and enhanced error logging
Bonder
disable temperature and humidity preconditions
separator flag check box added for recipes
improved venting procedures
Mechanical Debonder
ability to disable wafer sensor in recipes
DataStream™ Update 20191223
Firmware – 20191223140026
Diego – 20170426104043
Postal – 20160404142634
Web UI – 20190812115240
Manny – 20160404142354
DataStream™ Update 201902
Firmware – 20190212094814
Diego – 20170426104043
Postal – 20160404142634
Web UI – 20190218101847
Manny – 20160404142354
What's New:
We update our software frequently to improve our equipment. We have fixed a few bugs, improved performance, and added new user settings.